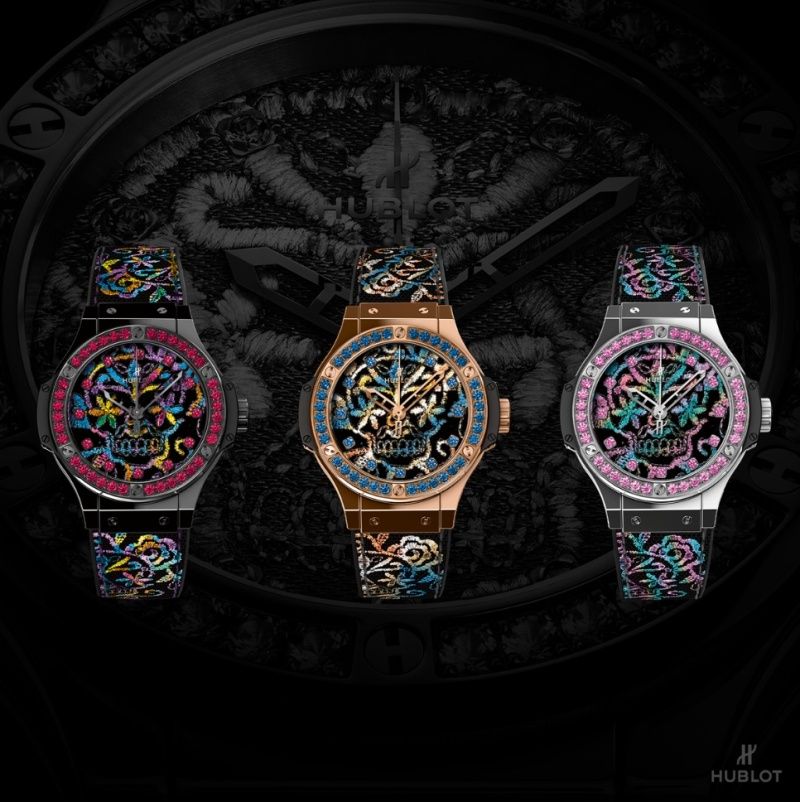 I've always had a weakness for bad boys – rebels who respond to rules and boundaries by pushing them with an almost reckless sense of adventure. After all, it's wild cards like these who truly create change in their chosen field. Sure, they may ruffle a few feathers along the way, but isn't that the best part of being an innovator?
In the buttoned-up world of high-end horology, no one knows this better than maverick watchmaker Hublot. A relatively young buck in a famously exclusive field that reveres longevity and provenance, the brand's unconventional choices in design and brand identity have successfully raised industry eyebrows since its inception in 1980.
Who can forget its controversial print ad featuring the battered face of Bernie Ecclestone after a real-life, violent mugging? The thugs who had attacked the Formula Once chief may have gotten away with his King Power F1 watch, but it was the name behind the timepiece that really stole the show with that now-famous tagline, "See what people will do for a Hublot?"
The slogan was typical Hublot: bold, brazen, yet innovative.
How could I possibly resist??
What's more, this distinct identity the brand has crafted – this "Art of Fusion" – is evident in all of its timepieces, whether they're geared toward men or women. This is what sets Hublot apart from its industry counterparts. Most luxury watch brands tend to undergo a complete transformation in their attempt to attract watch lovers of the female persuasion, going for the predictable pastel color scheme adorned with a sprinkle of dainty diamonds on equally dainty cases.
One glance at a Big Bang Broderie or Big Bang Jeans – both of which are geared toward women – and you know you're looking at a sports watch from Hublot. Each timepiece exhibits the same bold and edgy traits uniformly found in all of its wares. Whether the line is primarily casual, bohemian or flirty in style, the watchmaker's Art of Fusion always shines through.
While Hublot has much to offer, I instantly gravitated toward the following three collections for women and placed them on my "Watch Wish List" for their spot-on reflection of the brand. Though each exudes a personality that is vastly different from the others, they all came out as wild cards in a market saturated with petite and almost muted ladies' watches.
Above all, each is in its own, distinct way bold, brazen and innovative.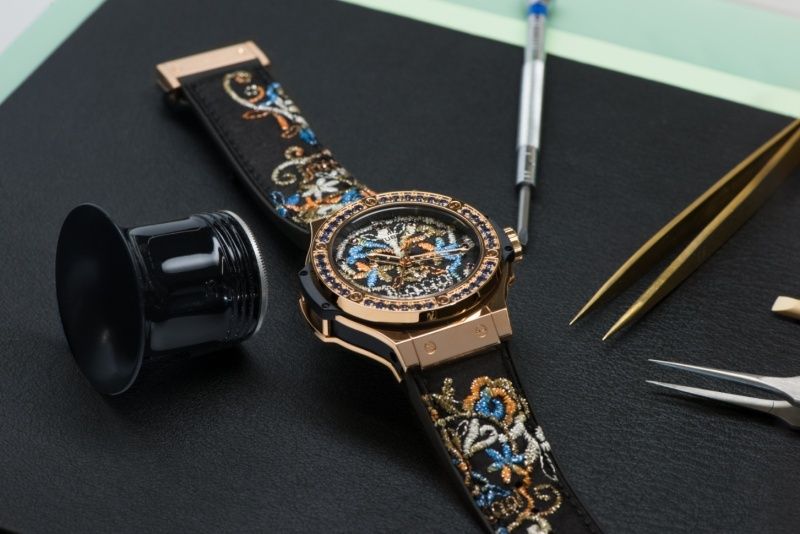 Bold Broderie
Hublot's sneak peek of the Big Bang Broderie at BaselWorld 2015 must have sent its peers running to their respective design rooms to rework their strategy on women's watches. And if they haven't yet, they most definitely should, because this striking collection is set to change the way watchmakers design their products for female fans – whose numbers only continue to grow.
Geneva's Grand Prix de l'Horlogerie certainly agreed, awarding Hublot its 2015 Women's Watch Prize.
There's nothing discreet about the Broderie, particularly the recently released Sugar Skull edition. Like the strong woman it aims to reflect, the vibrant series packs a punch to make an impact at first sight – and not just with the sheer size of its pieces. Boasting a 41mm case, each Broderie is noticeably larger than most ladies' watches on the market, confirming a long-held notion that, yes, size DOES matter.
Frustratingly, most of what's currently available to us tend to be on the small side, but women are hardly intimidated at the sight and feel of something larger. So when it comes to cases, bigger can be better. And the Big Bang Broderie does not disappoint in that aspect.
For those preferring an added dash of color, the Broderie Sugar Skull is just the answer. A titillating mash-up of haute couture and haute horlogerie, this attention-grabbing series of Big Bang timekeepers drew inspiration from two polarizing worlds: the high-fashion catwalk and the otherworldly realm of Latin-American mysticism. The latter is centrally featured on a carbon fiber dial, which shelters a traditional Mexican Calavera, or Sugar Skull, delicately embroidered on organza silk.
The collection consists of three mesmerizing pieces on black rubber straps that are intricately adorned with embroidered arabesque designs. Painstakingly stitched with Lurex thread, the metallic sheen of gold, silver, fuchsia, yellow, turquoise and navy blue patterns contrast beautifully with the attached cases, which come in polished red gold, black ceramic and stainless steel. Only 200 pieces of each model is available, making them a must-have limited edition.
And what's a luxury watch without a bit of bling? Each Broderie Sugar Skull boasts a total of 48 pink or blue sapphires; 36 dotted along the bezel and 12 marking every hour on the dial.
The self-winding movement that drives the collection has a 42-hour power reserve and can be submerged in waters of up to 100 meters deep.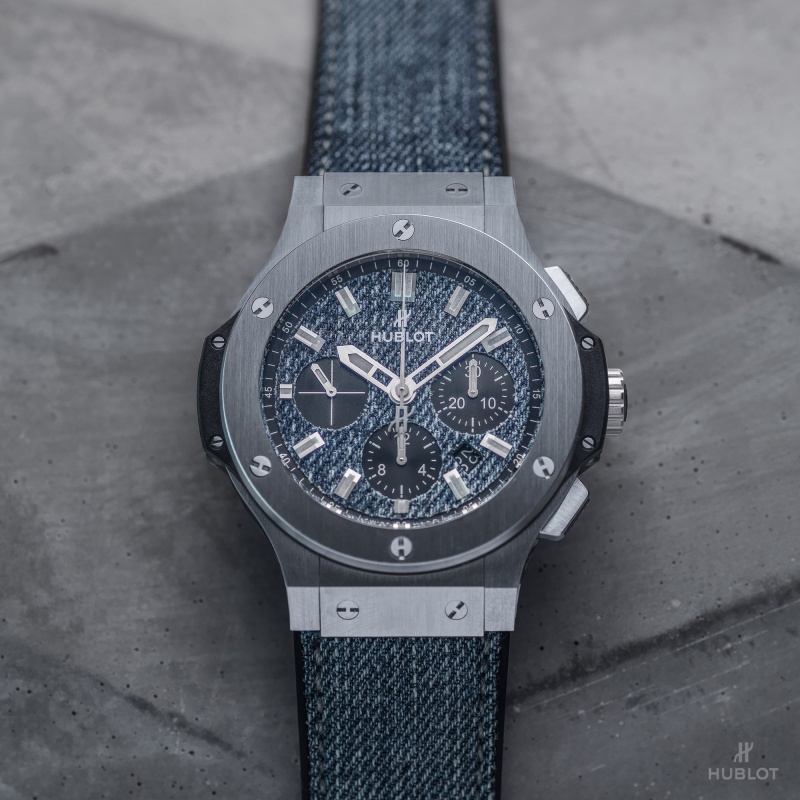 Denim Invasion
Denim on a watch? Challenge accepted!
Hublot first rolled out its Big Bang Jeans collection in 2013 to a skeptical audience more accustomed to rubber and steel on their sports watches. But the brand once again defied expectations by making the seemingly impossible marriage of denim and horology work, because jeans – very much like the Big Bang – never goes out of style.
While the debut line Jeans line consisted of three women's watches and a men's diving watch, the updated edition features self-winding chronographs in four styles that can easily be worn by both sexes.
Granted, the 44mm case of the steel and carbon models may prove to be on the bulky side for some, but their slightly smaller counterparts can make the perfect companion for a woman – or man – looking to sport just the right blend of casual elegance and bohemian chic on their wrist. The Jeans Steel Diamonds, for example, provides a stylish contrast between the denim-covered, black rubber straps and its polished stainless steel, 41mm case. The black dial is also layered in denim, with eight diamonds dotting the hour markers, while an additional 38 diamonds outline its bezel.
For a darker, edgier look, the second 41mm model boasts a polished black ceramic case and black diamonds.
In Living Color
This year, Hublot is ushering in the summer season with not just a splash, but a tidal wave of color! Following the success of its Big Bang Tutti Frutti watches in Rose, Purple, Orange and Apple, the brand recently unveiled at BaselWorld 2016 the Tutti Frutti Linen series of playful chronographs in bright shades reminiscent of the 1980s.
If the Broderie Sugar Skull hints of high fashion magic and the Big Bang Jeans is boho-chic, then the Tutti Frutti Linen represents pure, unabashed FUN. My first glimpse of the line instantly brought to mind images of surf, sand and sunshine; shades, shorts and neon swimwear for a day at the beach.
The choice of four eye-popping colors – Ocean Blue, Turquoise, Purple and Orange – come with matching sapphires, amethysts or topazes lining the bezel to create a feminine contrast to the recognizable Big Bang design. The result is a spirited blend of fashion and summer in a luxury sports watch.
But as its name suggests, Hublot's Tutti Frutti Linen introduces yet another unlikely material into the world of watchmaking: the breezy, natural fibers of linen. Grown and processed in Switzerland, the carefully dyed fabric is stitched onto matching rubber straps and extends to cover 41mm cases that are reinforced with a transparent composite. The latter is used instead of the more common carbon fiber material for an equally sturdy yet lighter self-winding timepiece.
Only 200 of each color will soon be available for those who want a pop of fun and color on their wrist in the upcoming summer season.
Lisa J. Keemink for Passion Horlogère