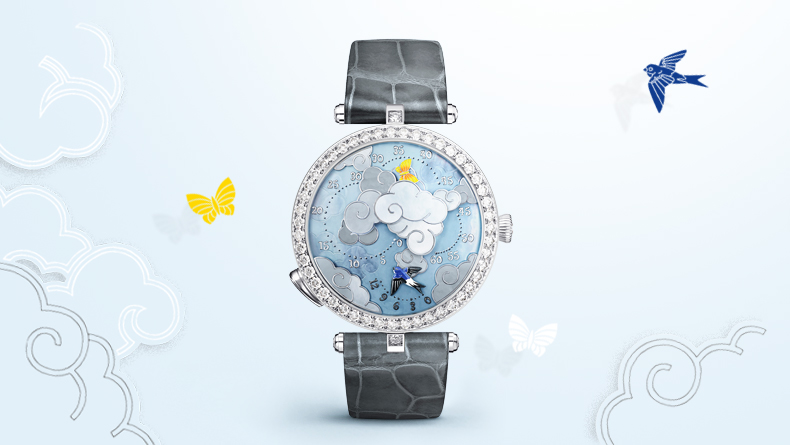 Part 1 of my top picks for women's watches revealed at the 26th Salon International de la Haute Horlogerie spotlighted four exquisite timepieces from two brands equally revered for their mastery in jewelry and watchmaking: Cartier and Piaget.
My wish list doesn't end there, however. From the panoply of choices presented by all the participating maisons this year, countless stood out in their own, unique way, whether through sheer extravagance, elegant simplicity or superb horological craftsmanship. Above all, many were simply gorgeous to look at – especially wrapped snugly around my left wrist.
The Hypnose and Rotonde Day/Night from Cartier, along with Piaget's Limelight Gala Milanese and Stella were immediate standouts because of their visually arresting features. The next three items on my list roused my salivary glands in much the same way but also piqued my horological interest with added elements that set themselves apart.Again, I should reiterate that I'm still a novice in the world of high-end watches. And though I am learning all I can about complications and calibers, movements and maisons, the following list is based equally on aesthetics, my (developing) knowledge of watch specifications and, of course, that certain je ne sais quoi.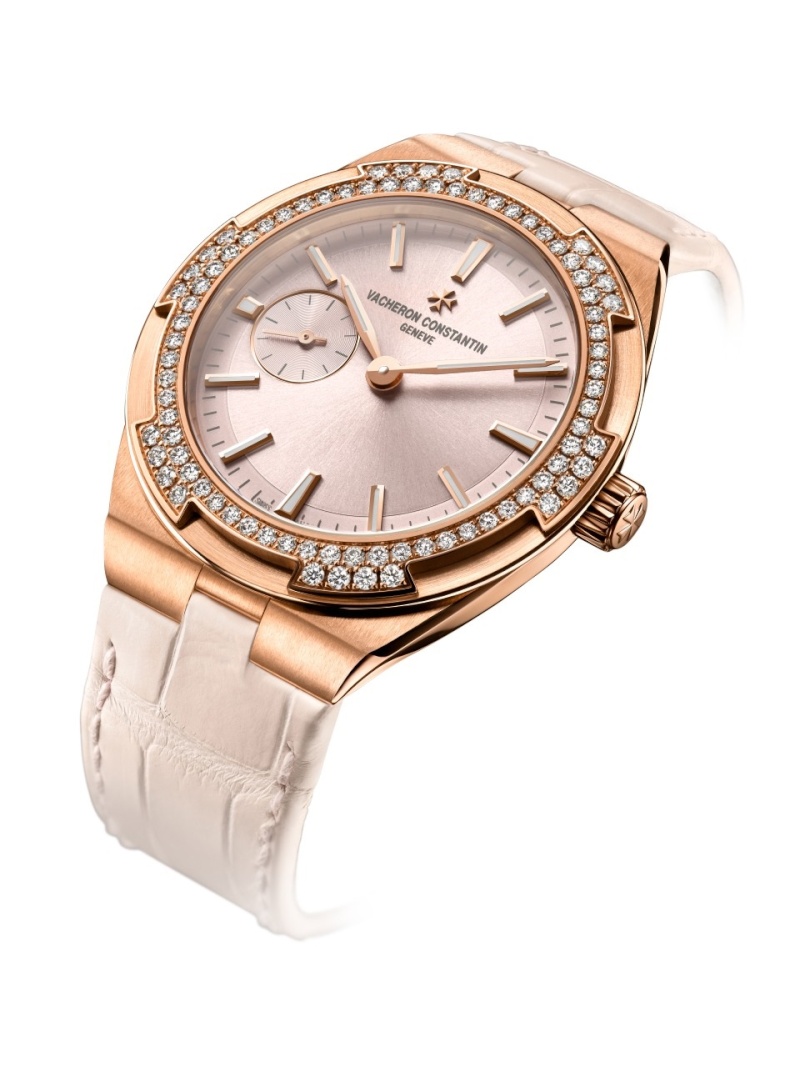 Vacheron Constantin's Overseas Small Model
True, this particular ladies' collection from Vacheron Constantin looks to be a mere smaller version of its revamped Overseas line for avid travelers, with the most noticeable difference being the sprinkle of round-cut diamonds on top (84 to be exact). But the identifiable six-sided bezel shaped to resemble the brand's emblem, the Maltese Cross, makes for a pleasing, timeless design suitable for both men and women. Plus, the entire aesthetics perfectly reflects the collection's identity of "distinctive casual elegance."
The 37mm case, available in 18-karat pink gold and stainless steel, comes with a translucent rosy beige or blue-lacquered dial, giving you the option for a softer look or a more striking facade. The small seconds indicator at its 9 o'clock along with the luminescent minutes and hours hands are driven by a self-winding movement with a 44-hour power reserve – which, admittedly, may be a drawback for those on the forgetful side (like me).
Still, I was well convinced to look past the slight hiccup after seeing the collection's signature perks. First, there's the easy-fit sizing system of the bracelet, which allows you to easily adjust the wrist size by up to 4mm – without the hassle of going to a boutique and chopping off a link. Okay, it may not sound like a whole lot, but for the "21st century travelers" whose routine takes them to various corners of the world, those 4mm can provide some much-needed comfort when traversing from one drastically different climate to another.
And the pièce de résistance? Each model comes with two or three interchangeable straps or bracelets to offer up different looks: the pink gold or stainless steel bracelet suitable for a formal, business setting; alligator straps in blue or rosy beige for that "distinctive casual elegance"; and textured, rubber straps for a sportier vibe.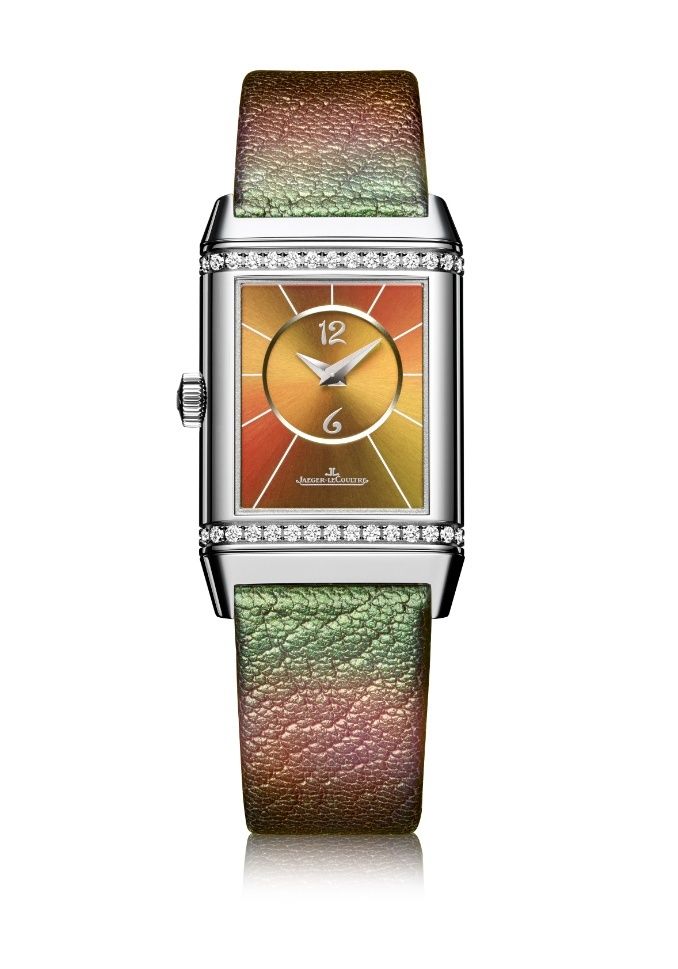 Jaeger-LeCoultre's Reverso by Christian Louboutin
When luxury powerhouses Jaeger-LeCoultre and Christian Louboutin revealed their collaboration for a line of Reverso watches, it was a high-fashion fantasy come true. So what happens when the reigning kings of haute horlogerie and haute couture join forces (like the Avengers of luxury) to create limited edition timepieces? The answer: pure horological magic.
The legendary watchmaker decided to go all out for the 85th anniversary of its timeless Reverso collection by tapping into the resplendent mind of Louboutin, whose name sends shiver down the arched feet of every woman who dreams of owning a pair (or two, or three or a dozen) of those iconic red-soled shoes.
The result is a line of dazzling timepieces, available in two sizes, that are a perfect aesthetic blend of both maisons. The front face of each model's reversible, rectangular case still bears the recognizable Art Deco design of the Reverso Classic Duetto, with straight, Arabic numerals and striking blue hands adorning the starburst dial. Flip it over to reveal the "hidden" face of Louboutin's mark: shimmering dials of various hues set between two rows of diamonds, showing floral, Arabic numbers at 12 and 6 o'clock.
But the bold, artistic flare so recognizable in his shoes is better reflected in the watches' straps, which come in an array of shades and designs, along with the characteristic red "sole" that is quintessentially Louboutin.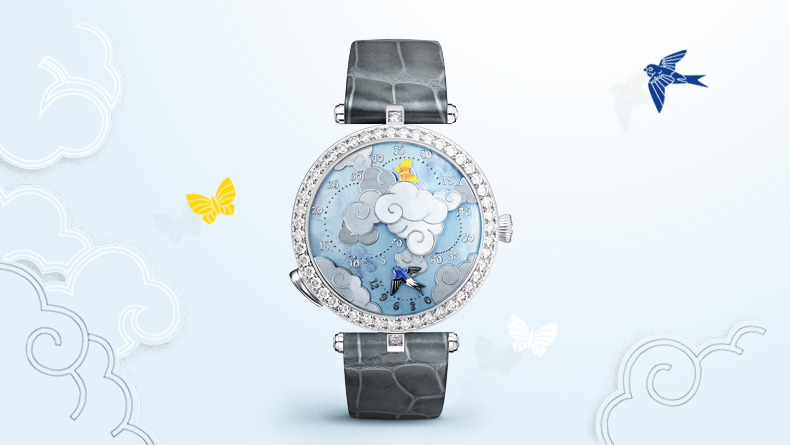 Van Cleef & Arpels: The Lady Arpels Ronde des Papillons
How can I even begin to describe this magnificent creation by Van Cleef & Arpels? It does more than just act as a timepiece; it's a ballet performance encased in white gold, set on a stage crafted by some of the most talented artisans of the luxury industry.
Pure poetry in motion, the Lady Arpels Ronde des Papillons complication watch is among the newest additions to the maisons's Poetry of Time collection. The 38mm case, encircled by fine diamonds, houses a sky blue, mother-of-pearl dial adorned with shimmering clouds.
Noticeably missing, however, are the conventional hour markers or even minute and hour hands. Instead, the time is beautifully depicted through the aerial dance of butterflies and a swallow as they dart in and out of the clouds throughout the day. The swallow uses the tip of one wing to indicate the hour, pointing to embossed numbers zero through 12 displayed at the bottom part of the dial before swooping back to its starting point to retrace its flight.
Meanwhile, three whimsical butterflies take turns to mark the minutes, each hiding behind a billow of silver clouds for a chance to flutter past their own set of minute markers once their predecessor disappears. These four "dancers" of the Lady Arpels Ronde des Papillons can also burst into a performance at the touch of a button, gliding across the dial for 10 seconds before returning to their original places.
This entire ballet – from the retrograde jumping hour and charming animation, to the flight of the butterflies and swallows – is powered by a mechanical movement boasting a 40-hour power reserve.
Lisa J. Keemink for Passion Horlogère